Homepage

Europe
Смотрите также:
Tradeston Bridge
views: 0 / posted byvladimir 29 ноября 2009
---
The Tradeston Bridge is a bridge across the River Clyde in Glasgow which opened on 14 May 2009.
Tradeston Bridge
Carries Pedestrian and Bicycle bridge
Crosses Clyde River
Locale Glasgow, UK
Design Cable-stayed bridge
Total length 105 metres
Width 5 metres
Opening date 14 May 2009
The design features not only add architectural value to the bridge's function as a pedestrian crossing, but play a decisive role providing structural and economical advantages.
Placing the main structure above the deck reduces its thickness, and hence the overall cost. The fins reach out from the piers, hereby reducing the length of the main span and achieving a thin deck. This results in an economical and architecturally exciting new crossing over the River Clyde in Glasgow's busy downtown.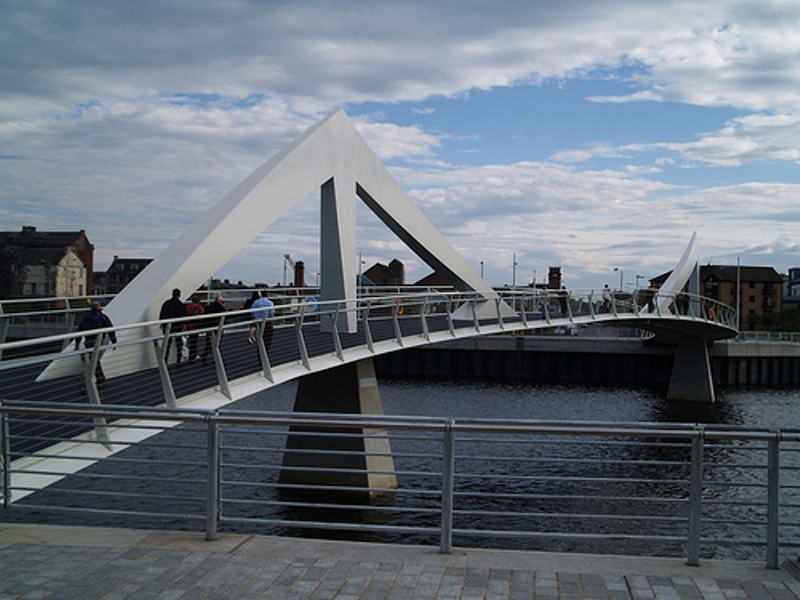 It cost £7million to construct and is used by pedestrians and cyclists with no automobile traffic being allowed upon it. It uses a cable-stayed design, albeit with a horizonally curved S-shaped span with outward canting on both curves.
Print
---
---
Comments: 0