Homepage

South America
Смотрите также:
Third Bridge
views: 45 / posted byadmin 2 октября 2009
---
The Bridge Deputy Darcy Castelo of Mendonça, colloquially known as the Third Bridge (Portuguese: Terceira Ponte), is the second tallest bridge in Brazil, connecting the cities of Vila Velha and Vitória in the state of Espirito Santo.
Spanning the mouth of Vitória's bay, which has many other features, including the Penha Convent, Moreno's hill, freight ships, coastline, islands and modern buildings, the bridge has become one of Espirito Santo's main landmarks.
Construction began on the bridge in 1978 and was completed and 11 years later on August 23, 1989. The Third Bridge was so dubbed in reference to two older bridges between Vitória and Vila Velha: Florentino Avidos Bridge, known as 'Five Bridges' ('Cinco Pontes'); and the Prince Bridge (Ponte do Príncipe), known as the 'Second Bridge'. It is now the main link between Vitória and the southern coast of Espirito Santo. After the Third Bridge was completed, Vila Velha, previously known as a sleepy seaside town, entered a period of intense civil development.
12 thousand vehicles a day crossed the bridge soon after its completion; this number has since risen above 58 thousand, on average. The bridge has a modern structure, which includes: lighting, signaling, echanical assistance and emergency medical services. The operation of the Third Bridge is monitored by its Operational Control Center. On December 21, 2003, aiming to enhance the image of the bridge and beautify the city, RodoSol, the company maintaining the bridge, installed blue fluorescent lamps on the central pillars of the third bridge.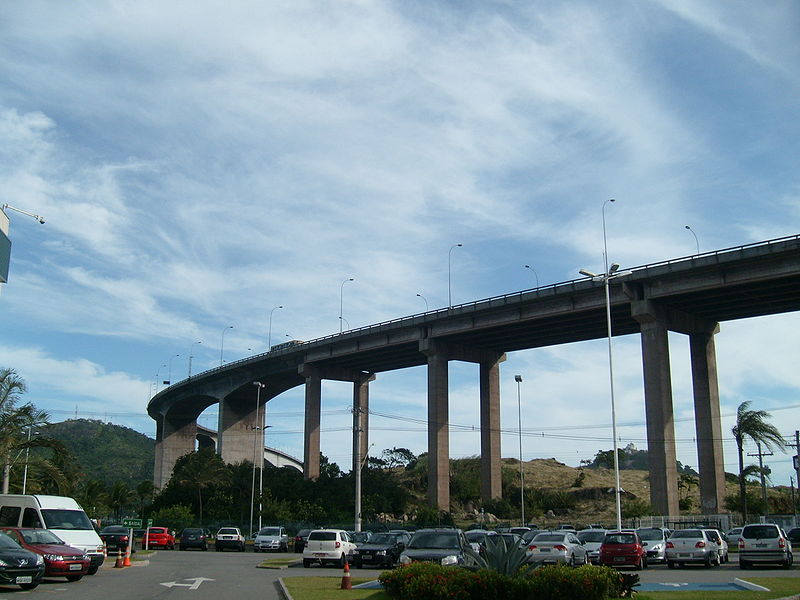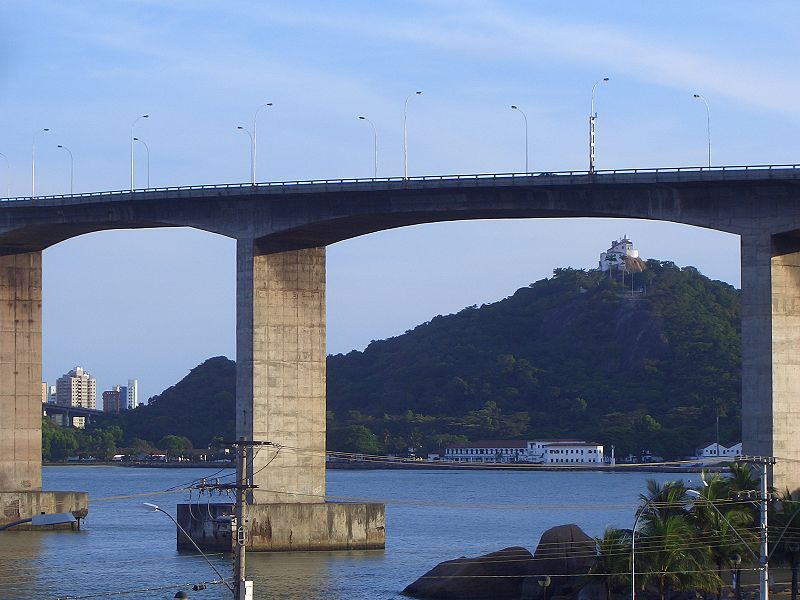 Third Bridge
Official name Terceira Ponte
Carries Vehicles
Crosses Vitoria bay
Locale Vila Velha and Vitória, Brazil
Pillars 61
Total length 3300 m
High at the center 70 m
Longest span 260 m
Opening date August 23, 1989
250 posts and 250 lamps installed.
Toll plaza with 15 lanes, including 12 manual payment booths and 3 automatic-payment tracks.
Two electronic message boards, primarily reporting traffic and weather conditions.
Print
---
---
Comments: 0