Homepage

Europe
Смотрите также:
Mungsten Bridge
views: 0 / posted byvladimir 4 января 2010
---
Mungsten Bridge is the highest steel railroad bridge in Germany. The bridge is 107 metres (350 ft) high and spans the valley of the river Wupper, connecting the cities of Remscheid and Solingen.
Mungsten Bridge
Official name Mungsten Bridge
Carries Railroad
Crosses Wupper
Locale Remscheid and Solingen, Germany
Designer Anton von Rieppel
Design Arch, steel
Total length 465 m (1530 feet)
Main span 170 m (560 feet)
High 107 m (350 feet)
Opened July 15, 1897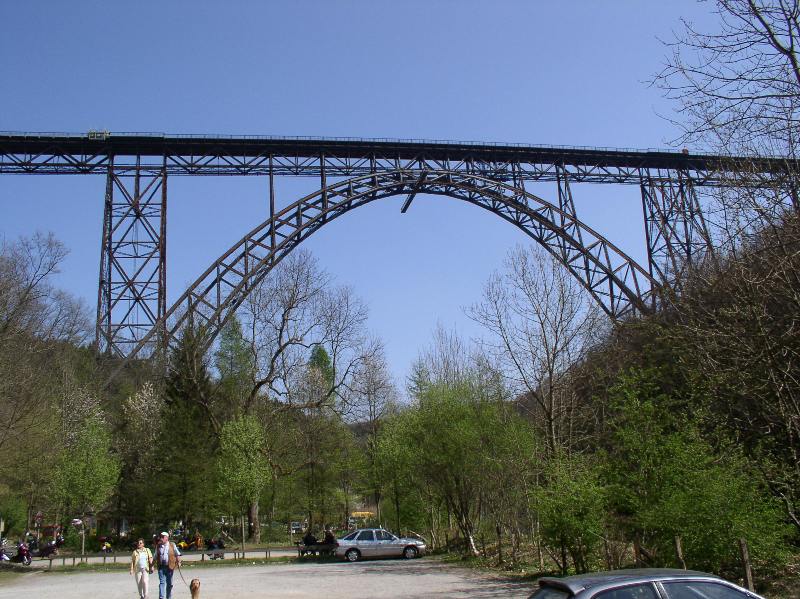 This stretch is part of railroad route nr. 458 between Wuppertal and Solingen. It is used exclusive by line RB 47, aka "the Mungstener". Originally the building was named Kaiser-Wilhelm-Brucke (Emperor Wilhelm Bridge) to honour Emperor Wilhelm I. After the end of the monarchy the bridge was re-named after the near-by settlement of Müngsten, which is close to the city limits of Solingen, Remscheid and Wuppertal. Today, the settlement no longer exists, so Mungsten is simply a landmark.
History
First drafts for a bridge connecting the two cities of Remscheid and Solingen go back as far as 1889. Preparatory work began in 1893, the bridge was finished in 1897.
The six support columns have a maximum height of 69 meters (230 ft). In the middle of the structure, the main arc has a span of 170 meters (560 ft). The overall length of the structure is 465 meters (1,530 ft).
A total of 5,000 tons (4,900 LT; 5,500 ST) of steel were used in its construction. 950,000 rivets hold the structure together. During construction, a number of advanced building techniques were used.
Anton von Rieppel (1852 - 31 January 1926), an architect and engineer, was in charge of the project. A memorial plague at the foot of the bridge reminds one of his efforts.
Originally, the bridge was planned to be single-track. However, high future traffic growth projections led to the redesign as a dual-track bridge. Before its opening, the rail distance between the cities of Remscheid and Solingen was 42 kilometers (26 miles). With a direct connection via the bridge, this distance shrank to 8 kilometers (5 miles).
The Prussian Parliament approved the 5 million Marks required to build the bridge in 1890.
The first breaking of the earth was on 26 February 1894. A total of 1,400 kilograms (3,100 lb) of dynamite and 1,600 kilograms (3,500 lb) of black-powder were needed during construction.
The bridge's official inauguration celebration took place on 15 July 1897. Emperor Wilhelm II did not attend the ceremony in person. Prince Friedrich Leopold of Prussia attended the festivities instead. Emperor Wilhelm II visited the bridge two years later, on 12 August 1899.
Print
---
---
Comments: 0