Homepage

North America
Смотрите также:
High Bridge
views: 48 / posted byadmin 6 мая 2009
---
The High Bridge (officially, the Aqueduct Bridge) is a stone masonry arch bridge, with a height of almost 140 feet (40 m) over the Harlem River, connecting the New York City boroughs of Manhattan and the Bronx. It is closed to all traffic but is the oldest surviving bridge in New York City. The bridge was built as part of the Croton Aqueduct, which carried water from the Croton River to supply the city. It was designed by the aqueduct's engineering team led by John B. Jervis. James Renwick, Jr., who later went on to design New Yorks landmark Saint Patrick's Cathedral on Manhattan's Fifth Avenue, participated in the design.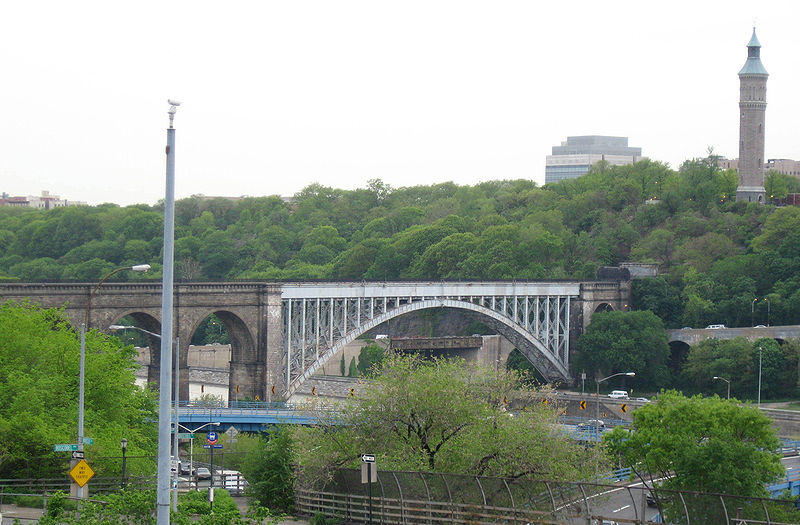 High Bridge
Crosses Harlem River
Locale Manhattan and the Bronx, in New York City
Design Arch bridge
Vertical clearance 102 ft (31 m)
Opening date 1848
The Croton Aqueduct had to cross the Harlem River at some point, and the method was a major design decision. A tunnel under the river was considered, but tunneling technology was in its infancy at the time, and the uncertainty of pursuing this option led to its rejection. This left a bridge, with the Water Commission, engineers and the public split between a low bridge and a high bridge. A low bridge would have been simpler, faster, and cheaper to construct. When concerns were raised to the New York Legislature that a low bridge would obstruct passage along the Harlem River to the Hudson River, a high bridge was ultimately chosen.
Interior staircase of the High Bridge Water Tower
As designed, the High Bridge had the appearance of a Roman aqueduct, but in the 1920s, a steel arch about 450 feet (135 m), was added to replace the several masonry arches that spanned the river. The bridge was started in 1837, and completed in 1848. It has a length of well over 2,000 feet (600 m). The eastern end is located in The Bronx near the western end of West 170th Street, and the western end is located in Highbridge Park in Manhattan, roughly parallel to the end of West 173rd Street. The bridge is operated and maintained by the New York City Department of Parks and Recreation. Officials were thinking of closing the bridge in mid 1960s due to disrepair. In 1970 a pedestrian threw a rock from the bridge to a tour boat, and the bridge closed. In November 2006 it was announced that the bridge will reopen after a $20 million renovation project. The bridge is expected to reopen to pedestrians in 2009. With the $20 million renovation, the arch will be stronger, staircases will improve, cameras will be placed on both ends of the bridge, boat beacon lights will be added, and more.
Print
---
---
Comments: 0