Homepage

Europe
Смотрите также:
Hohenzollernbrucke
views: 0 / posted byvladimir 7 января 2010
---
The Hohenzollernbrucke is a bridge crossing the river Rhine in the German city of Cologne. It crosses the Rhine at km 688.5. Originally, the bridge was both a railway and street bridge, however after its destruction in 1945 and its subsequent reconstruction it was only accessible to rail and pedestrian traffic.
It is the most heavily used railway bridge in Germany, connecting the stations Köln Hauptbahnhof and Köln-Deutz with each other.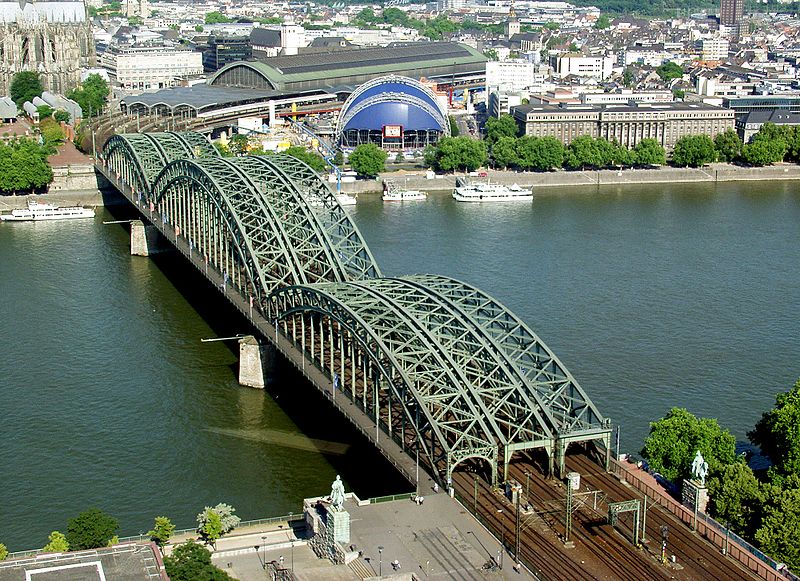 The bridge was constructed between 1907 and 1911 after the old bridge, the Dombrucke, had to be demolished. The Dombrucke had been unable to handle the increasing traffic in Cologne. The Hohenzollernbrucke was one of the most important bridges in Germany during World War II, even under consistent daily airstrikes the bridge was not damaged badly. On March 6 1945 German Military engineers blew up the bridge when Allied troops started to conquer cologne. After the war, reconstruction was quickly organized; by May 8 1948 the Hohenzollernbrucke was accessible by pedestrians again. Over the next eleven years the bridge was improved until by 1959 it was usable without any impairment. During the 1980's the bridge was renovated with two new tracks.
The Hohenzollernbrucke now regularly has over 1200 trains pass through daily. The bridge is regarded as an important part of Cologne as it is connects Cologne's central station with the major European cities on the other side of the Rhine.
The total length of the Hohenzollernbrucke is 409.19 meters.
Since 2008 people are placing love padlocks on the fence between the sidewalk and the tracks.
Print
---
---
Comments: 0