Homepage

Australia
Смотрите также:
Walter Taylor Bridge
views: 30 / posted byadmin 8 мая 2009
---
The Walter Taylor Bridge is a vehicular suspension bridge crossing the Brisbane River in Brisbane, Australia.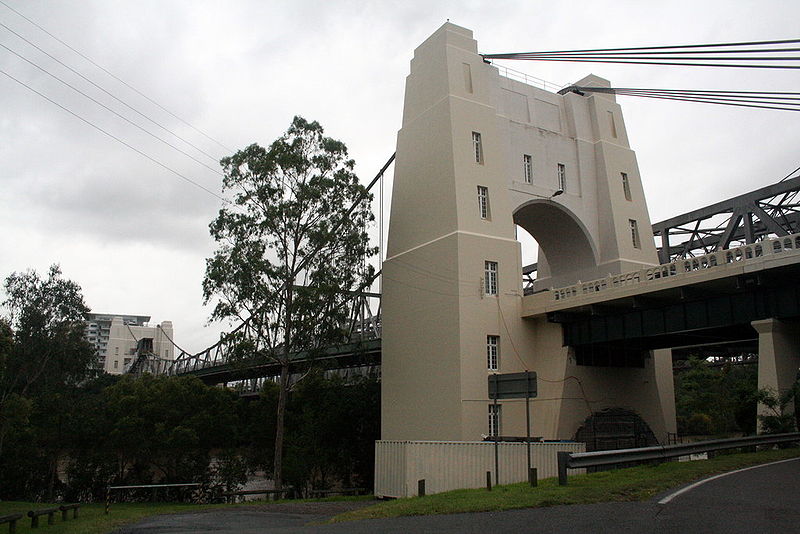 Walter Taylor Bridge
Official name Walter Taylor Bridge
Carries Motor vehicles, pedestrians
Crosses Brisbane River
Locale Brisbane, Australia
Design Suspension bridge
Opening date 14 February 1936
Design
The bridge is a similar design to the Hercilio Luz Bridge in Florianopolis, Brazil, with the truss carrying the bridge being above the roadway and meeting the cables at non-uniform heights. This means that the suspension cables actually form the top chord of the truss, and this configuration is known as the Steinman (after its inventor) or Florianopolis type. The bridge is unique among Brisbane bridges in that the two towers of the bridge house residential accommodation, which are still occupied. The Chelmer side of the bridge is bounded by a council park, including a pontoon. The Walter Taylor Bridge is one of four bridges in proximity to each other. The others are the Albert Bridge, a second unnamed railway bridge, and the Jack Pesch Bridge.
History
The bridge was opened on 14 February 1936 by the Governor of Queensland, Sir Leslie Wilson, and named after the local contractor who built it. The bridge was operated as a toll bridge until the 1960s, with a toll collection booth located at the Northern (Indooroopilly) end. During that time, the bridge was more popularly known as the "Indooroopilly Toll Bridge". The bridge is a suspension bridge and the support cables were actually surplus support cables used to hold up the incomplete halves of the Sydney Harbour Bridge during its construction. When the bridge opened it had the longest span of any suspension bridge in Australia.
Print
---
---
Comments: 0