Homepage

Asia
Смотрите также:
Yokohama Bay Bridge
views: 11 / posted byvladimir 15 ноября 2009
---
The Yokohama Bay Bridge is a 860-meter-long cable stayed bridge in Yokohama, Japan.
Yokohama Bay Bridge
Carries 6 lanes of roadway
Crosses Tokyo Bay
Locale Yokohama, Japan
Design Cable-stayed bridge
Total length 860 metres
Longest span 460 metres
Clearance below 55 metres
Opening date September 27, 1989
The City of Yokohama is just south of Tokyo along Tokyo Bay. The Yokohama Bay Bridge is a viaduct that includes a cable-stayed bridge that connects Daikoku and Honmoku Piers in Yokohama Harbor. Yokohama has a busy port clustered with piers and human-made islands that were dredged from the Bay.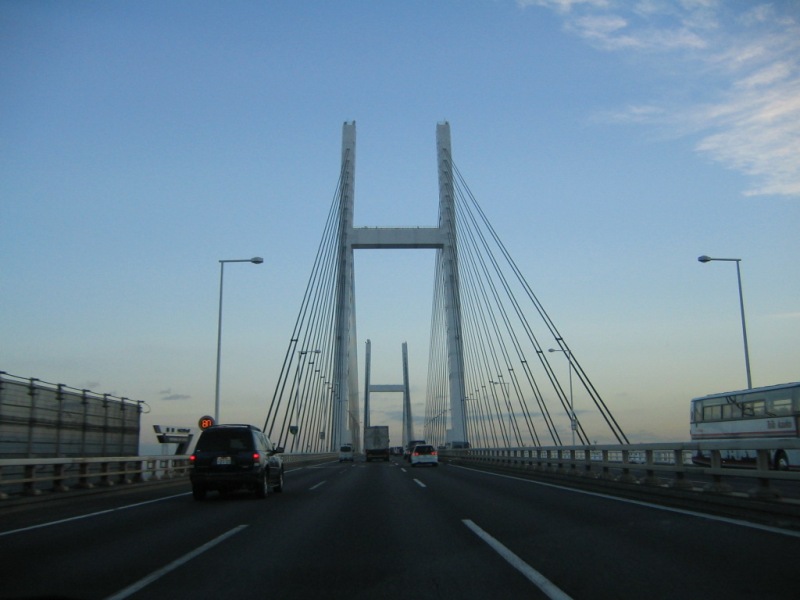 The Yokohama Bay Bridge is part of the Shuto Expressway.
The Japanese are proud of their bridges and so bridge owners provide parks, walkways, and viewing platforms so that visitors can appreciate a bridge's form, much as Hokusai did for the Ryogoku Bridge 200 years ago. The Yokohama bridge is a symbol of the City of Yokohama and it was carefully designed to appear beautiful from the parks and hills surrounding the bridge. Moreover, a walkway and viewing platform have been provided on the bridge.
The Yokohama Bridge has a double-deck truss superstructure with six vehicle lanes on the top and bottom decks. The bridge has 55 m (180 ft) vertical clearance to allow big container and cruise ships access into Yokohama Harbor. The suspension cables have a fan arrangement between the towers and the girders. The main span is 460 m long and the side spans are 200 m. Because this area has large earthquakes, the bridge was designed to allow the heavy superstructure to move out of phase with the towers during strong shaking.
Print
---
---
Comments: 0