Homepage

Asia
Смотрите также:
Tokyo Bay Aqua-Line
views: 6 / posted byvladimir 14 ноября 2009
---
The Tokyo Bay Aqua-Line, also known as the Trans-Tokyo Bay Highway, is a bridge-tunnel combination across Tokyo Bay in Japan. It connects the city of Kawasaki in Kanagawa Prefecture with the city of Kisarazu in Chiba Prefecture, and forms part of National Route 409.
Tokyo Bay Aqua-Line
Crosses Tokyo Bay
Carries Road bridge
Locale Kawasaki, Kanagawa and Kisarazu, Chiba, Japan
Design Girder bridge
Total length 4.4 km
Material Steel
Opening date 1989 - 1997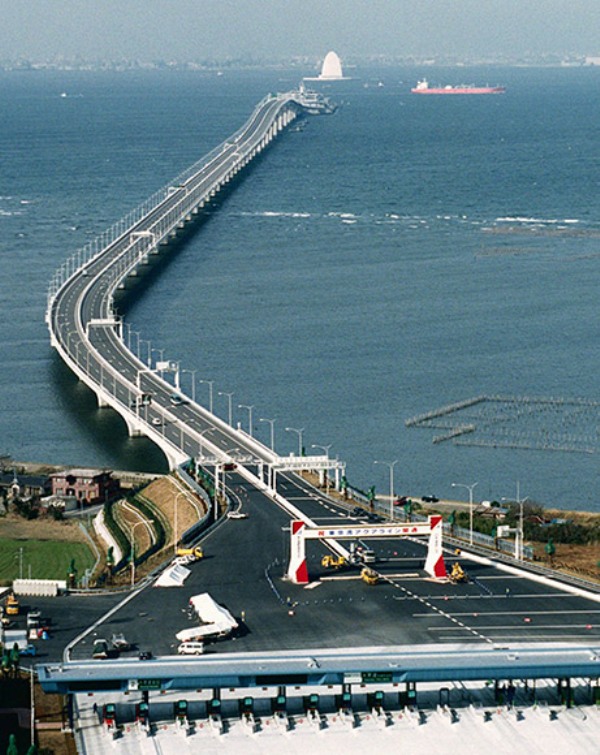 With an overall length of 14 km, it includes a 4.4 km bridge and 9.6 km tunnel underneath the bay—the longest underwater tunnel for cars in the world.
At the bridge-tunnel crossover point, there is an artificial island called Umihotaru ("sea firefly") with a rest area consisting of restaurants, shops and amusement facilities. Air is supplied to the tunnel by a distinctive tower in the middle of the tunnel, called the Kaze no To ("the tower of wind"), which uses the bay's almost-constant winds as a power source.
The road opened on December 18, 1997 after 31 years of construction.
Print
---
---
Comments: 1