Homepage

Asia
Смотрите также:
Bhumibol Bridge
views: 0 / posted byvladimir 20 декабря 2009
---
The Bhumibol Bridge, also known as the Industrial Ring Road Bridge is part of the 13 km long Industrial Ring Road connecting southern Bangkok with Samut Prakan Province, Thailand.
Bhumibol Bridge
Official name Bhumibol Bridge
Other name Industrial Ring Road Bridge, Mega Bridge
Crosses Chao Phraya River
Locale Bangkok, Thailand
Design Cable-stayed bridge
Total length 702m and 582m
Longest span 326m and 398m
Opened 5 December 2006
The bridge crosses the Chao Phraya River twice, with two striking cable-stayed spans of lengths of 702 m and 582 m supported by two diamond-shaped pylons 173 m and 164 m high. Where the two spans meet, another road rises to join them at a free-flowing interchange suspended 50 metres above the ground.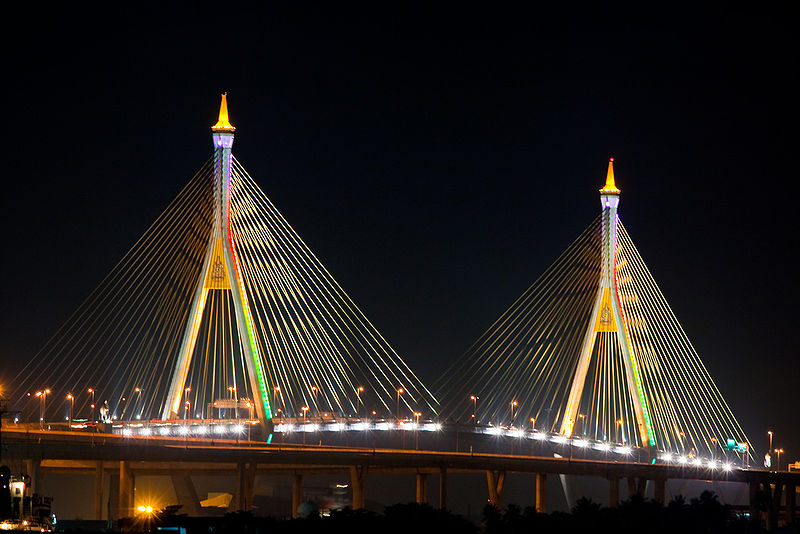 The bridge opened for traffic on 20 September 2006, before the official opening date of 5 December 2006. It is part of the Bangkok Industrial Ring Road, a royal scheme initiated by King Bhumibol Adulyadej that aims to solve traffic problems within Bangkok and surrounding areas, especially the industrial area around Khlong Toei Port, Southern Bangkok and Samut Prakan Province.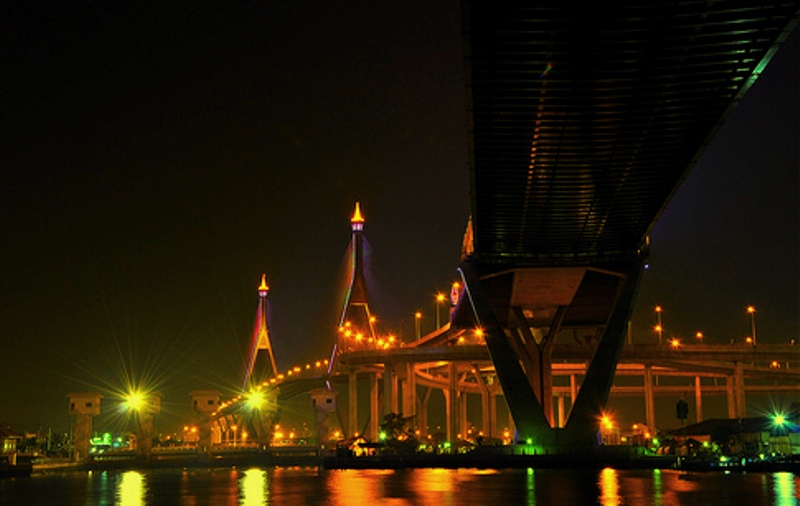 According to tradition, all the bridges over the Chao Phraya in Bangkok are named after a member of the Royal Family. In October 2009, it was announced that both bridges would be named after King Bhumibol Adulyadej, with the northern bridge officially named "Bhumibol 1 Bridge" and the southern bridge "Bhumibol 2 Bridge". The unofficial name "Mega Bridge" was also widely used.
Print
---
---
Comments: 0